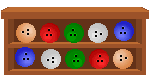 Did you know that modern day pin bowling evolved from the historical game called Skittles? Yep! Would you like to play a game of Ten Pin?
I believe every bowling alley has an arcade room. How about a game of pool? Or maybe Darts. Jen used to play both of those back in the day. She was actually quite good at darts at one time.
Copyright © 2021 Jen's Chaos. All Rights Reserved.