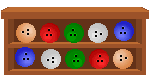 Did you know that modern day pin bowling evolved from the historical game called Skittles? Yep! Would you like to play a game of Ten Pin?
I believe every bowling alley has an arcade room. How about a game of pool? Or maybe Darts. Jen used to play both of those back in the day. She was actually quite good at darts, and her Papaw taught her how to play a pretty good game of eight ball.



Welcome to the Pizza Pub! You can get some of the best brick oven pizza here! It is so mouth watering! My favorite is Pepperoni!
Copyright © 2021 Jen's Chaos. All Rights Reserved.