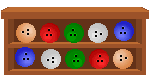 Did you know that Mrs. Jen's mom bowled on a league for many years? She also won several trophies.
​
Bowling is a fun, easy-to-learn sport for all ages. Don't forget to check out the Bowling Basics.
The graphics used within this website are copyrighted to various graphic artists and are not public domain, nor are they available for download from this site. Please visit the links provided if available. Icons courtesy of Freepik and Smashicons at Flaticon. Cheddarville's Town Buildings © Caboose Designs.