Welcome to Gouda's Grocery! They have the best produce. Of course, it is picked fresh from Cheddar Acres Farm.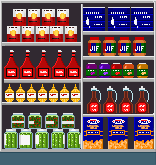 Welcome to the gym! I'm Coach Alex. Let me know if I can be of assistance.
After a good workout, it's nice to be able to relax in the hot tub. Enjoy!
Copyright © 2021 Jen's Chaos. All Rights Reserved.