Welcome to Gouda's Grocery! The bakery makes fresh bread, pies, and cookies daily. All the fruits and veggies are handpicked from Cheddar Acre Farms. If you ever visit, don't forget to pick up some apple cider from Grandpa! It's so tasty!!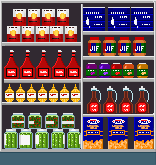 Welcome to the gym! I'm Coach Alex. Let me know if I can be of assistance.
After a good workout, it's nice to be able to relax in the hot tub. Enjoy!
Copyright © 2021 Jen's Chaos. All Rights Reserved.